Our kayak rolling clinics provide paddlers with the opportunity to learn to roll in small groups. Our classes start with a half-hour demonstration and explanation of multiple ways to roll a kayak. From there we have a tailored set of exercises on land and on the water for you to work through at your own pace for 2-hours. Our success rate at getting people to roll is very high. We have multiple kayaks, teaching aids and also use video analysis. The improvement we see in paddlers' skills has been incredibly satisfying and exciting for both the students and for us as their instructors.
We are passionate about teaching kayak rolling and have been working on our rolling instruction methods for over 14 years now. We were honoured to have been chosen by Paddle Canada in 2014 to help write the rolling program for Paddle Canada and are instructor trainers.
Private Rolling Lessons
Many paddlers each summer come and take private rolling lessons with us in Parry Sound. If you would rather work with an instructor one-on-one or with your own personal small group check out our Private Coaching options.
Stay With Us
Want to escape the city? Learn from senior kayak instructors in Parry Sound and enjoy a weekend escape on the Seguin River at our kayaking basecamp. Some paddlers come for a lesson, stay over and head out on Georgian Bay the next day. Check out our accommodation!
We are happy to answer any questions you may have about rolling lessons. Email or phone us 1-905-399-1216.
What You Will Learn
Demonstration on ways to roll
On-water coaching exercises
Course Prerequisites
Please contact us with any question related to these trip prerequisites.
No previous experience is required.
What's Included
Don't worry, we've got this covered.
Included
Certified and skilled instructors.

We include high-end kayaks, paddles and safety gear.

Video analysis

Rolling teaching aids
What You Should Bring
A detailed gear list is sent before the start of the trip but this can get you started.
Clothing to wear while you are in the water.

Goggles and nose plugs if you choose (a dive mask works great).
Lessons in Parry Sound, Ontario
Our location on the Seguin River is warm in the summer and very clean due to its continuous flow. Our shallow waterfront and rack of rolling kayaks make this the perfect location to learn.
Course Notes
We have two sessions on each of the available dates. 0930-1200 and 1330-1600
Your Instructors
Our certified instructors are some of Canada's best!
James started kayaking at 18. Since then his paddling career has taken him all over the world as an expedition leader and senior kayak instructor.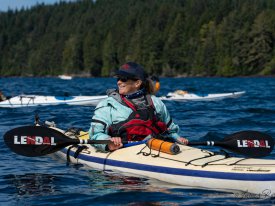 Dympna is co-owner and operator, of Ontario Sea Kayak Centre along with her partner and husband James. She loves sharing her craft with others through her coaching on skills courses and through her guiding while on kayaking trips.
Course Dates
June 29, 2021
June 30, 2021
July 20, 2021
August 17, 2021
August 18, 2021

Know someone who wants to take this course?
Course Location and Driving Directions
Ontario Sea Kayak Centre
Parry Sound, Ontario
We will start the course at our base here in Parry Sound.
Driving Directions Address:
Ontario Sea Kayak Centre
6 Harmony Lane
Parry Sound, ON

Ontario Sea Kayak Centre
Parry Sound, Ontario

We will start the course at our base here in Parry Sound.

Get Driving Directions
Really loved the level 1 course. Your personalities and the way you work together made for a fun weekend. We learned a lot and both feel better prepared to perform either an assisted or solo rescue.
International Visitors
We are more than willing to accommodate you in any way that we can.  Contact us to see how we can help!
We are happy to answer any questions you may have about our Paddle Canada kayak courses. Please email or call us 1-905-399-1216
---
We are happy to answer any questions you may have about this trip or about any of our other trips or courses.