Taking our Paddle Canada Level-1 Instructor course allows you to teach insured and certified kayaking courses anywhere in Canada upon successful completion. Instructor candidates should have solid Paddle Canada Level-2 skills and strong leadership skills to take this course. Our Level-1 instructor training program takes place at our centre with accommodation available on-site.
Paddle Canada Level-1 Instructors are able to teach Level-1 skills and Basic kayak skills courses and assist on a Level-2 skills courses. Students should come to this instructor course with very strong skills and a good understanding of the level 1 course syllabus.
This instructor course includes accommodation at Ontario Sea Kayak Centre with the use of our outdoor kitchen pavilion and hot outdoor showers.
What You Will Learn
You will spend your time learning teaching/learning styles, practice teaching theory and practical skills in the classroom and on the water. Option to take rolling instructor course on the day after your Level One Instructor course.
Book Now!
Your Instructors
Our certified instructors are some of Canada's best!
David Johnston has been introducing people to the sport of sea kayaking for the past 20 years. He is a senior instructor trainer with Paddle Canada.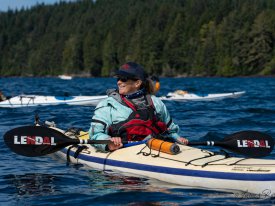 Dympna is co-owner and operator, of Ontario Sea Kayak Centre along with her partner and husband James. She loves sharing her craft with others through her coaching on skills courses and through her guiding while on kayaking trips.
Scott Rosborough has been paddling and teaching for Ontario Sea Kayak Centre for eight years and is one of our best rolling instructors. He is a Paddle Canada Level Two Instructor, A Paddle Canada Rolling Instructor and he has his Level Three Skills.
Course Prerequisites
Please contact us with any question related to these trip prerequisites.
Paddle Canada Level-2 Skills.

Basic Instructor certification recommended.

At least 18 years of age.

Current certification in first aid (14 hours) with CPR.

30 days in Level-1 conditions (including overnights).

Strong leadership skills.
What's Included
Don't worry, we've got this covered.
Included
Accommodation is included onsite.
What's Not Included
Paddle Canada Instructor membership fee which is $99.99 *you must register with Paddle Canada ahead of the course. Candidates provide their own meals during this course and are able to use our outdoor covered kitchen area.
What You Should Bring
A detailed gear list is sent before the start of the trip but this can get you started.
Sleeping Bag and pillow

Food to prepare your meals.

Wet suit and footwear.

Towel, sun screen, hat etc

Laptop or something for taking notes in class, pen and Rite in the Rain notepad or a dive slate

Kayak and Safety Gear * optional rental available
Know someone who wants to take this course?
Course Location
Ontario Sea Kayak Centre
Parry Sound, Ontario
We will start the course at our base here in Parry Sound.
Driving Directions Address:
Ontario Sea Kayak Centre
6 Harmony Lane
Parry Sound, ON

Ontario Sea Kayak Centre
Parry Sound, Ontario

We will start the course at our base here in Parry Sound.

Get Driving Directions
What a boost to your kayaking self-confidence to have Dympna and James alongside you in the water! Their wet exit demonstration and one-on-one support made learning fun not fearful.
International Visitors
We are more than willing to accommodate you in any way that we can.  Contact us to see how we can help!
We are happy to answer any questions you may have about our Paddle Canada kayak courses. Please email or call us 1-905-399-1216
---
We are happy to answer any questions you may have about this trip or about any of our other trips or courses.