The Paddle Canada Level 4 skills course covers advanced paddling skills, problem-solving, group dynamics, and leadership during a multi-day trip in a rough-water environment. The course will focus on the student's ability to confidently sea kayak in class-4 water conditions along remote and exposed open coast for an extended trip. The student will be an effective part of a group of peers, able to perform both leadership and supportive roles.
This scenario-driven course will challenge paddlers to navigate an exposed coastline as a peer group finding solutions to problems posed by the instructors, elements, and geography we encounter. Learning will occur from debriefing the scenarios we run through and from peer-to-peer feedback. This is the highest level in the Paddle Canada sea kayaking program. It is about showing up with your paddling/rescue and touring systems and putting them to the test.
As this is an advanced touring-kayak-focused program we will be basing the course out on trip. We will meet and depart on our trip and the entire program will unfold in an expedition context, exactly what we are training to do.
What You Will Learn
Advanced paddling skills coaching in dynamic conditions.
On-water problem solving.
Book Now!
Searching Availability...
Your Instructors
Our certified instructors are some of Canada's best!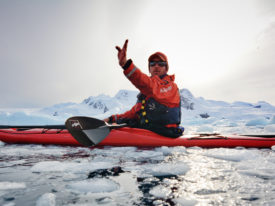 James started kayaking at 18. Since then his paddling career has taken him all over the world as an expedition leader and senior kayak instructor.
Lee is an inspirational business leader and professional sea kayak instructor with over 17 years combined in the educational and sea kayak industry. He has taught at Symposiums all over North America and teaches and guides regularly on the East Coast and West Coast. 
Course Prerequisites
Please contact us with any question related to these trip prerequisites.
Paddle Canada Level 3 Certification or equivalent.

At least 10 day-trips kayaking in class-3 conditions.

A minimum of three extended trips totalling 10 or more overnights. The student must show evidence (e.g. weather/sea state logs, photography or video) that they spent a minimum of five days during any trip in class-3 conditions.

An ability to confidently roll (on one side) in class-3 conditions is essential.

Wilderness first aid certification (36 hours) with CPR is strongly recommended.

Restricted Radio Operator's Licence (marine VHF) is strongly recommended.
What's Included
Don't worry, we've got this covered.
Included
Paddle Canada Certified Instructors

Six days of instruction
What's Not Included
Sea Kayak and paddling equipment

Camping gear and food
What You Should Bring
A detailed gear list is sent before the start of the trip but this can get you started.
A Sea Kayak with all required paddling gear

Camping equipment and meals to sustain you on a multi-day journey

A VHF Radio with required licensing
Know someone who wants to take this course?
Really happy to have rolled 4 out of 5 times in a row thanks to James' & Scott's guidance. Interesting how I learned a vital tip from each one of you.
International Visitors
We are more than willing to accommodate you in any way that we can.  Contact us to see how we can help!
We are happy to answer any questions you may have about our Paddle Canada kayak courses. Please email or call us 1-905-399-1216
---
We are happy to answer any questions you may have about this trip or about any of our other trips or courses.