Drop out of life and drop in to relaxation with this two-night three-day mini-getaway at Harmony Outdoor Inn.
We thought we'd offer a simple getaway for friends or sisters, moms, and daughters, or couples to try a little stand-up paddleboarding, do a little yoga and enjoy the beauty of our place at Harmony Outdoor Inn.
Arrive at 1:00 pm on the first day of your escape for a beginner stand-up paddleboard lesson. We will teach you all of the basic skills on the calm waters from our beach. Your lesson will finish at around 3:30 just in time for you to check into your tent. Enjoy the evening relaxing at the campfire, taking an evening swim or enjoying a glass of wine in a Muskoka chair on the dock as the sun sets in the west.
Wake up the following morning and enjoy cooking your breakfast in our outdoor kitchen/pavilion. After breakfast, meet us at the waterfront deck for your morning yoga class at 10 am. After lunch, we will have some fun on the paddle boards again at 1:00 pm, where we will take our skills up a level and teach you some pivot turns and some bracing skills for some more advanced paddling.
On your last morning, enjoy another morning yoga class at 10:00 am down by the water. Our regular check out is at 11:00 am but we are extending it until noon so that you can enjoy your yoga class at your leisure before leaving your tent. Feel free to take one last paddle or swim, or make your lunch in the pavilion before you head home, you can enjoy our waterfront until around 2pm.
You are welcome at all times during your stay to take a paddleboard, or a canoe, or a kayak out from one of our racks to enjoy at no extra charge. The water is warm and clean so you might like to go for a swim or hang out in a hammock and read a book. This is your stay here. It is not structured except for the two paddleboard lessons and the two yoga classes.
Tent accommodation is a twin bed in a two-person glamping tent. We are hoping that everyone will come with someone else so that you can share your tent with someone in your bubble. If you are a couple and would prefer a queen bed, please let us know and we will make sure you have one of our two queen bed tents. Moms and daughters are welcome as long as your daughter is at least 13.
Accommodation is onsite in our prospector tents which are discreetly spaced out over our forested property. Each tent is perfectly set up for you, all you need to provide is your own sleeping bag or blankets. Each tent has its own private composting outhouse as well as a hand washing station. All of our trails have overhead lighting or solar lighting all the way to your tent.
During your stay in our tents, use our pavilion to prepare your meals or perhaps you'd like to enjoy your dinner in town. We provide everything you need for food prep; pots, pans, dishes, utensils, and dishwashing supplies. We have worked hard to make sure everything is set up as individual food prep stations so we can accommodate social distancing. Bring your own groceries and put them away in your private cupboard and two designated shelves in one of our fridges.
We have cedar-lined hot, outdoor showers and a stunning west-facing waterfront deck with hammocks for you to lay in while the sun goes down. Enjoy new friends around the group campfire down by our waterside.
Please check out our tent accommodations page and our COVID response page to help answer any further questions you may have.
What You Will Learn
Paddle Canada Basic Stand Up Paddleboard Skills course.
Your Instructors
Our certified instructors are some of Canada's best!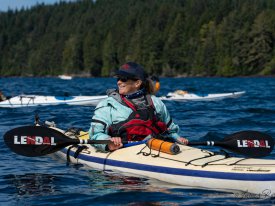 Dympna is co-owner and operator, of Ontario Sea Kayak Centre along with her partner and husband James. She loves sharing her craft with others through her coaching on skills courses and through her guiding while on kayaking trips.
Marissa enjoys sharing her love of the outdoors through a mindful paddle and practice. As a certified yoga teacher and a Paddle Canada Basic Sea kayak instructor and SUP instructor, her biggest thrill is helping others bliss out - and find their JOY!
Course Prerequisites
Please contact us with any question related to these trip prerequisites.
No previous experience required
What's Included
Don't worry, we've got this covered.
Included
SUP and Kayak and canoe and equipment rentals

Two nights shared accommodation in one of our glamping tents
What's Not Included
Meals during your stay, bring your own food to cook in our outdoor kitchen

Trip cancellation or interruption insurance
What You Should Bring
A detailed gear list is sent before the start of the trip but this can get you started.
Clothing to wear to get wet in

Food for your three day stay, and a water bottle

Sleeping bag or bedding

Your personal yoga mat

Towels

Headlamp, sturdy footwear
Know someone who wants to take this course?
Course Location
Ontario Sea Kayak Centre
Parry Sound, Ontario
We will start the course at our base here in Parry Sound.
Driving Directions Address:
Ontario Sea Kayak Centre
6 Harmony Lane
Parry Sound, ON

Ontario Sea Kayak Centre
Parry Sound, Ontario

We will start the course at our base here in Parry Sound.

Get Driving Directions
Really loved the level 1 course. Your personalities and the way you work together made for a fun weekend. We learned a lot and both feel better prepared to perform either an assisted or solo rescue.
International Visitors
We are more than willing to accommodate you in any way that we can.  Contact us to see how we can help!
We are happy to answer any questions you may have about our Paddle Canada kayak courses. Please email or call us 1-905-399-1216
---
We are happy to answer any questions you may have about this trip or about any of our other trips or courses.