We have decided to take a year off from WOW in 2024. Thank you for your participation over the last 10 years. See you in 2025!
We had so much fun at WOW 2022 that we can't wait for WOW 2023. We've had so many women ask us when they can register that we made sure to get it out much earlier this year. We know we have to offer some intermediate classes now because we have had women come year after year and they want to step up their game.
So this year, we have intermediate kayak skills in both strokes and rescues. We now have a fun intermediate stand-up paddleboarding class, as well as SUP yoga and a SUP forward stroke and touring class. Our canoe coaches are excited to offer intermediate strokes and skills as well as a solo canoe class for women who travel solo. We've also added a Camp like a Pro class that we are super excited about! Of course we also have beginner classes in kayak, SUP and canoeing.
You asked for more kayaking, so this year with your registration you may choose two kayaking classes as well as two more of any class you'd like. Perhaps you'd like to focus on either SUP or canoe and choose to do two classes in one discipline. You could also choose to keep with the spirit of WOW and sample one of each, it's entirely up to you. Classes fill up and you choose your classes with your registration so try to sign up as soon as possible!
We will again be bringing together some of the most celebrated kayak, canoe, and standup paddleboard coaches in the paddling scene in Ontario.
You also asked us to bring back the women's marketplace so we will have women who would like to share their artistic talents in jewelry, crafts, knitting, and art as well as some female small business entrepreneurs. We will have this on Saturday before our evening meal where we can have a beverage of our choice and see what treasures our new friends have brought to showcase. Anyone who is participating in WOW is welcome to have a table in our marketplace. We ask every participant to donate one of their offerings to the silent auction where we raise money for the Georgian Bay Biosphere and the Outer Island Project.
Women On Water is open to all women, from beginners to advanced paddlers, featuring Kayak, Canoe, and Stand Up Paddling (SUP) skills sessions. We supply all the paddling gear needed so that you have the opportunity to try multiple disciplines.
Where: Camp Tapawingo, Parry Sound, Georgian Bay Ontario
When: Sept 8-10, 2023
Who: ALL women are invited! All skill levels are welcome!
What's Included
Friday and Saturday night Accommodation in cabins.
All meals from snacks on Friday evening to lunch on Sunday.
Instruction in SUP, Kayaking, and Canoeing.
Paddlesport equipment and safety gear.
What's Not Included
Travel to and from Camp Tapawingo, Parry Sound, Ontario.
Alcoholic drinks.
Personal clothing.
Trip cancellation/interruption insurance.
What You Should Bring
Sleeping bag, Pillow, and anything else you need to sleep in a shared cabin.
Waterwear – Neoprene wetsuit or non-cotton layers.
BYOB to be enjoyed responsibly.
Gear list sent closer to the event.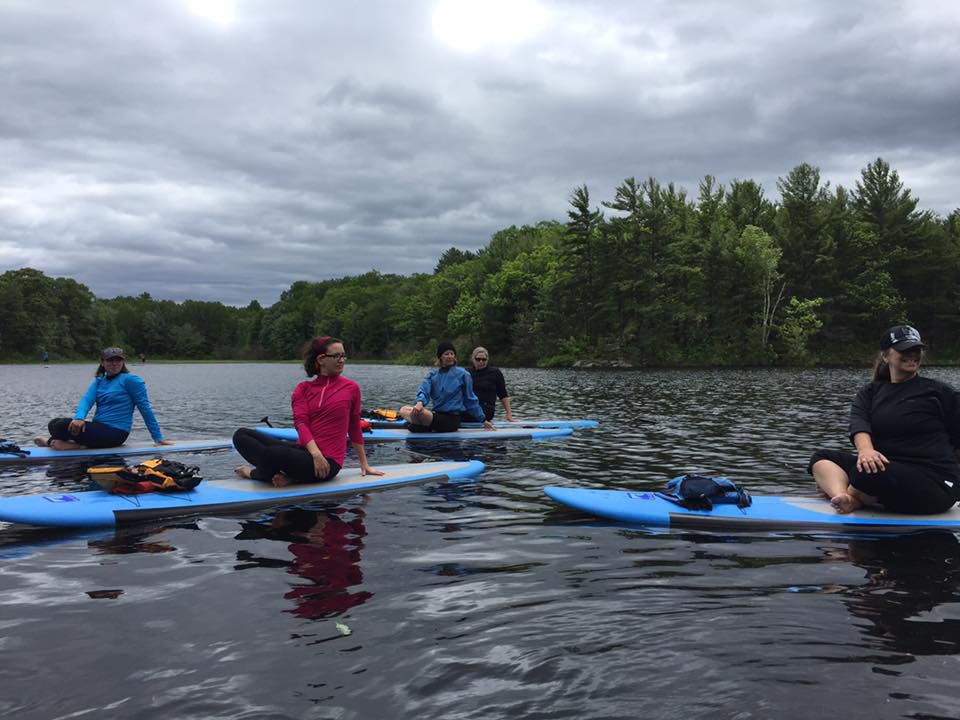 Try Kayaking, SUP, and Canoeing!
When I started WOW, I envisioned it as a weekend where women could have an opportunity to try all different types of paddling in a fun and relaxed environment with some of the best female instructors in Ontario. Every year we have had more fun, made more friends, and shared more skills. We've even had women who originally came as beginner students go on and take further training and end up teaching at WOW.

My journey to becoming a full-time instructor and kayak guide has been a success because I have always been open to learning new paddling disciplines. Anyone who becomes an expert at one sport usually has experience in many other sports. On my journey to become the best kayaker I could be, I have found that learning other paddling disciplines such as stand-up paddleboarding, canoeing, and some white water kayaking has made my skills in a sea kayak even stronger.

Paddlesports all share certain skills, by experiencing and learning skills in a different paddlecraft, you will enhance your skills when you are back in your chosen boat or on your board. I encourage you to choose to try all three sports but ultimately it's your choice of classes. I do ask that you choose two kayak courses only so that everyone gets a chance to kayak. See you at WOW 2023! All the Best and Happy Paddling until I see you again!

Dympna
---
Daily Schedule
Friday
4:00 pm – 9:00 pm
Arrive and sign in (Dining Hall) find yourself a cabin and settle in.
4:00 pm – 8:00 pm
Head into Parry Sound to get dinner (not-included) or even better, bring a picnic dinner to enjoy at the waterfront while the sun sets.
8:00 pm – 9:00 pm
Welcome and Orientation in Dining Hall
9:00 pm – 10:00 pm
Campfire and Meet and Greet!
Saturday
7:00 am – 8:00 am
Before Breakfast Yoga (Rec Hall)
7:45 am – 8:45 am
Breakfast (Dining Hall) Morning Announcements at 8:30 am
9:00 am – 12:00 pm
Morning sessions
12:15-1:15 pm
Lunch (Dining Hall). Announcements at 12:30 pm
1:30 pm – 4:30 pm
Afternoon sessions
5:00 to 6:00
Women's Marketplace
6:00 pm – 7:00 pm
Dinner (Dining Hall) Announcements at 5:45 pm
8:00 pm – 11:00 pm
Movie Night
Sunday
7:00 am – 8:00 am
Before Breakfast Yoga (Rec Hall)
7:00 am – 8:00 am
Sunrise paddle.
7:45 am – 8:45 am
Breakfast (Dining Hall) Morning Announcements at 8:30 am
9:00 am – 12:00 am
Morning classes
12:15 – 1:15 pm
Lunch (Dining Hall). Announcements at 12:30 pm
1:30 pm – 4:30 pm
Afternoon Classes
4:30 pm
Head home for another year!
---
Class Descriptions
Here is the descriptions of the classes so that you can think about which ones you'd like to register for before heading over to that page.
Beginner Kayak Strokes
This is for anyone who is new to kayaking and wants to dial in all of the basic strokes. We will teach you the forward stroke and reverse stroke, forward and reverse sweep stroke, the draw stroke so that you can go sideways, and of course, how to stop! We will also introduce the low brace which is the recovery stroke you need to know to prevent yourself from falling in!
If we have enough time we will also practice these strokes on edge and blend the forward stroke with the forward sweep to really improve our efficiency.
Intermediate Kayak Strokes
Have you been kayaking for a season and now want to improve your paddling efficiency, maybe learn how to go a little faster so that you're not bringing up the rear all the time? This course will focus on improving stroke efficiency. We will begin with really breaking down the forward stroke. We will start on land so we can give you one-on-one coaching and then take you to the water.
We will dial in all the basic strokes; sweeps, draw, and sculling draw, and then we will move on to bow rudders, hanging draw and low brace turns, making sure you know when and why we would use these strokes.
To become a more advanced kayaker you must get comfortable with paddling on edge so we will play with edging while performing all of these strokes.
Our goal in this class is to focus on any skills you would like to improve upon.
Beginner Kayak Rescues
Okay, so come on, you can't kayak unless you know how to get out of one and get back in. Just go for it. Our coaches gently guide you every step of the way. This class is for anyone who has never done a wet exit or doesn't feel comfortable doing one yet.
We will begin with how to get in and out of your kayak safely and then move on to the wet exit. After the wet exit practice, we will coach you on how to get back into your kayak and how to assist a friend to get back into their kayak.
Intermediate Kayak Rescues
This is for anyone who has already gone through the steps of a wet exit and has tried an assisted rescue before. We will run through a wet exit again and then move on to assisted rescue practice and self-rescue practice. At the end of this class, we promise you will feel so much more comfortable heading out in your kayak for a day paddle.
Beginner Stand Up Paddleboarding
This class is an introduction to the amazing sport of stand-up paddleboarding! We will cover launching and landing off the board, how to hold a paddle correctly, how to size a paddle for you, and what kind of boards there are on the market.  We will begin with kneeling on the board while paddling and work our way towards standing on a board. Our emphasis will be on a good forward stroke as well as turning strokes, and safety awareness.
Intermediate Stand Up Paddleboarding
This class will provide the theory and skills for paddling inland waters with some wind and waves.
We will introduce pivot turns, different foot positions, edging, and bracing. We will talk about the basics of wave surfing in case you find yourself at the beach!
We will also begin to learn about how to go touring on your kayak. What gear to bring and also how to navigate in a coastal environment and manage a short crossing safely.
The emphasis in this class will be on knowledge, navigation, and safety skills.
SUP Yoga Class
SUP Yoga is a beautiful way to harmonize body and spirit. This is an all-levels class suitable for new or experienced paddlers. Practicing yoga on the water is a wonderful way to experience nature while increasing balance and focus.
SUP yoga challenges you to find another level of balance and focus your mind, all while floating atop the water. Paddleboard yoga is not only elegant but also a great challenge for any rider.
SUP Tour and Forward Stroke Clinic
Here we will go for a nice tour on our boards. It's a great way to work out the kinks and to chat with your instructor about any skill where you'd like some extra practice or coaching, There will be a strong focus on learning an effective forward stroke so this class would be excellent for anyone thinking of participating in the fun community of SUP racing world, or if you simply would like to become a more effective paddler.
Beginner tandem canoeing
In this dynamic canoe class, we will learn or refine launching/landing and body position for balance, control, and safety. We will also focus on key strokes and maneuvers to control your canoe so you can safely head out on the water with control, teamwork, and delight.
Tandem paddling is all about teamwork involving understanding bow/stern skills/roles, paddling in cadence as well as all-essential positive communication.
Strokes: Bow and Stern: Draws, pries, sweeps, forward/reverse, stopping, balance (skeg) ,
               Stern: rudder and J-stroke.
Maneuvers: launching/landing, pivots, sideslips, paddling in arcs and straight lines
Safety: self-rescue: what to do if you tip.
Intermediate tandem canoeing
Up your paddling game with intermediate techniques for precision, proficiency, and power.  Learn torso rotation, vertical paddle position, blade pitch, underwater recoveries for stroke blending as well as adding tilt for carving turns. Increase your teamwork skills required for more canoe control in more demanding maneuvers.
New strokes: Bow and Stern: sculling draws/pries, static draws /pries; low brace and righting pry, underwater recoveries (slicing), compound strokes.
     Bow: bow draw and cross bow draw, reverse J (for reverse paddling)
    Stern: 'Silent' and 'Canadian' J-strokes; J stroke into a low brace
New Maneuvers:  Using tilt to carve turns. Running turns and slides. Paddling in reverse in control.
Safety: Canoe rescues (canoe over canoe, parallel curl), Swimmer assist.
Solo Canoeing
Who doesn't want to paddle their own canoe? We had a number of women ask us after WOW last year if we could add a solo canoe class. So here it is!
In this class, you will be introduced to the skill of solo lake canoeing. This clinic introduces the beginner paddler to paddling in calm sheltered waters.
You will be introduced to the basic paddling strokes and land and water rescue techniques of a solo canoeist. With your coach's direction and some more practice, you will have the confidence and basic skills to venture out on short paddling adventures.
Camping Skills – Camp like a Pro!
Learn the basics of comfortable and safe camp skills. Here are some of the skills we will cover in this fun and hands-on learning session
Hanging tarps and the different knots to practice,
Different types of water filtration,
How to pack your dry bags whether you're kayaking or canoeing
Menu planning for kayaking or canoeing and what's the difference?
Different types of stoves and how to use them without burning your food or blowing up your stove 😉
Different sleeping mats available and how comfortable are they?
This is a chance to ask the pros how they do it and the give you best advice for you as you begin to go into the wilds.
---
---
Registration
Upon your registration, you will be directed to another page where you may choose your classes immediately. We will allow changes for anyone who like to switch their classes, but not until around a month before the event on August 10, 2023.
---