We are finally able to offer our full-blown Women on the Water weekend to all of you again! September 10 and 11, with arrival on Friday evening Sept 9, 2022. We will again be bringing together some of the most celebrated kayak, canoe, and standup paddleboard coaches in the paddling scene in Ontario.
Women On Water is open to all women, from beginners to advanced paddlers, featuring Kayak, Canoe, and Stand Up Paddling (SUP) skills sessions.
Where: Camp Tapawingo, Parry Sound, Georgian Bay Ontario
When: Sept 8-10, 2023
Who: ALL women are invited! All skill levels are welcome!
Price: $449+hst (This includes the event, meals, and accommodation at Camp Tapawingo)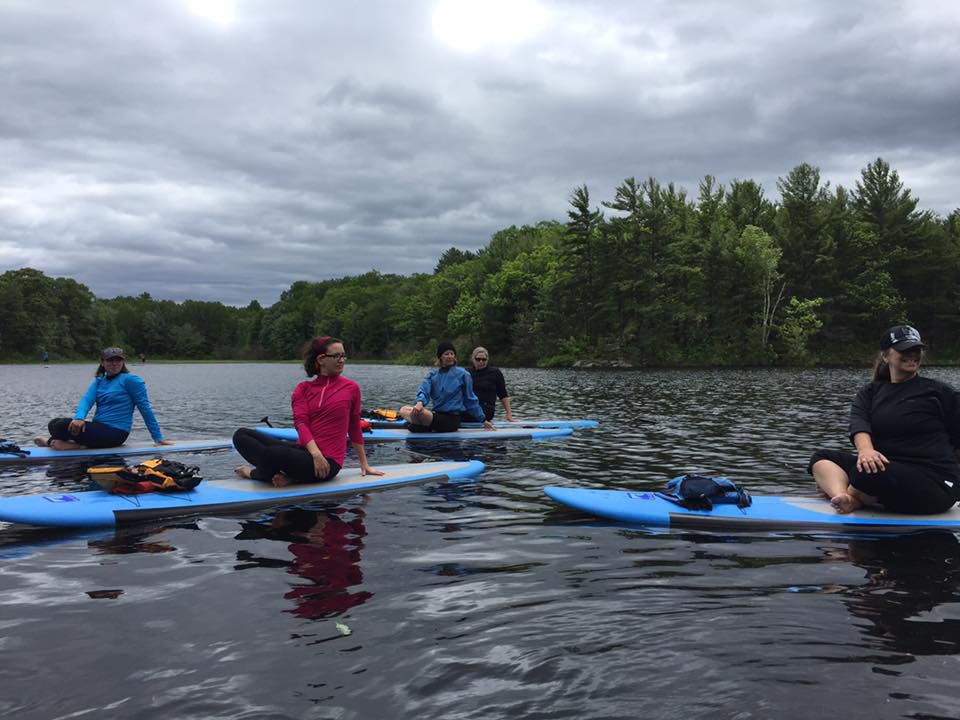 All new programming!
So let's chat about the weekend and the programming. I have written kind of a lengthy explanation but I'm excited about the learning opportunities and skill improvement possible on this weekend, so please take a minute and let me know what you think!
When I started WOW, I envisioned it as a weekend where women could have an opportunity to try all different types of paddling in a fun and relaxed environment with some of the best female instructors in Ontario. Every year we have had more fun, made more friends, and shared more skills. We've even had women who originally came as beginner students go on and take further training and end up teaching at WOW.
My journey to becoming a full-time instructor and kayak guide has been a success because I have always been open to learning new paddling disciplines. Anyone who becomes an expert at one sport usually has experience in many other sports. On my journey to become the best kayaker I could be, I have found that learning other paddling disciplines such as stand-up paddleboarding, canoeing, and some white water kayaking has made my skills in a sea kayak even stronger.
Paddlesports all share certain skills, by experiencing and learning skills in a different paddlecraft, you will enhance your skills when you are back in your chosen boat or on your board.
By using different paddles with different blades, and moving them through the water to propel different watercraft, you will have a much greater feel for how to paddle more effectively and more instinctually. Your instructors will share their knowledge of hull design and how their craft moves through the water, based on which stroke you are using. By gaining knowledge of how each craft actually moves, you will become a more instinctual paddler. As I mentioned, we have the best female instructors teaching at WOW and I know that many of them are also skilled in other paddling disciplines besides the one they usually teach.
So! This is what we want to share with you. The entire theme of the weekend will be learning how to paddle so beautifully, you'll be doing pirouettes by the end of the weekend. Whether you are in a kayak, on a SUP or in a canoe, you will be paddling with style and grace. The theme of every class will be blade control and its effect on the watercraft. This way the next time you go kayaking, canoeing or stand-up paddle boarding you will paddle like a pro, with fast, efficient, maneuvering strokes that take you where you want to go. Plus you will get to try paddling a canoe, a SUP, a kayak, and just for fun this year….Dragon Boating!
We will have four three-hour sessions. Saturday morning, Saturday afternoon, Sunday morning, and Sunday afternoon. Each session you will move to a different watercraft. In every session, the coaches will be talking about the blade and how to use it to glide their craft through the water. There will be four groups of ten and you will move through the weekend together. This allows us to keep any friends together. The group of ten will then be split into two groups by the instructors where needed so that we can give intermediate kayakers or intermediate Stand up Paddleboarders a chance to work on higher-level strokes and maneuvers. Other than that, the group of ten will be split into two groups just to keep our class sizes small.
I hope this new format is as exciting to you as it is to me. I don't think any other paddling symposium has provided this opportunity before. I hope I've explained it all clearly, get me talking about paddling skills and I can't stop 😉
If it's not quite clear, don't worry! Come on out and try kayaking, canoeing, stand-up paddleboarding, and Dragon Boating, with the most experienced female instructors in Ontario, have fun meeting new friends or come with some friends or your partner and enjoy a weekend of yoga, paddling, swimming, campfires, and fun!
What's Included
Friday and Saturday night Accommodation in cabins
All meals from snacks on Friday evening to lunch on Sunday
Instruction in SUP, Kayaking, Canoeing, and Dragon Boating for two days
Paddlesport equipment and safety gear.
What's Not Included
Travel to and from Camp Tapwingo, Parry Sound, Ontario
Alcoholic drinks
Personal clothing.
Trip cancellation/interruption insurance
What You Should Bring
Sleeping bag, Pillow, and anything else you need to sleep in a shared cabin
Waterwear – Neoprene wetsuit or non-cotton layers.
BYOB to be enjoyed responsibly
Gear list sent closer to the event
Here's what you can expect in the classes!
Remember, this year you will get to experience every single class with your group of ten paddlers. You will only split into two groups when kayaking and Stand-up paddleboarding based on your skill set. The coaches will chat with everyone pre-class and you can join either beginner or intermediate based on whatever one sounds like the right fit for you. Canoeing and Dragon Boating will each be one class.
Kayaking
Beginner kayak
You'll learn all the basic strokes needed to control your kayak and head out on a journey. Forward sweep, reverse sweep, pivot turns, forward stroke, reverse stroke, draw stroke, stopping, and low brace.
Intermediate kayak
We will step it up a notch. We will work on blending strokes. Low brace turns, edging with sweeps, powerful forward stroke, bow rudder, cross bow draw, hanging draw, sculling draw and sculling for support.
Stand Up Paddleboard
Beginner Stand Up Paddleboard
We will begin with the basic forward stroke, forward sweep, reverse sweep and using the two together, backstroke, cross draw (and using it in a crossbow turn), and an intro into bracing.
Intermediate Stand Up Paddleboard
This class will involve more advanced stroke techniques including stroke breakdown (understanding what our body is supposed to do, and why, during each phase of the stroke), straight draw, and why a pry is very difficult on a sup (but can be done!), advanced bracing and the bow draw (aka reverse J-stroke….a VERY handy stroke for more advanced paddling including whitewater, surfing, and racing)
Canoeing
Knowing this WOW group will have diverse experience already, we will run through the basics of tandem canoe bow & stern practices and skillsets quickly, slowing down to focus on questions. We then plan to "up our game" with some more advanced paddle skills and refinements, so that every paddler goes home hoping they won't forget all they've learned, and back to their favored discipline with fresh eyes and new perspectives to experiment with!
Daily Schedule
Friday
4:00 pm – 9:00 pm
Arrive and sign in (Dining Hall) find yourself a cabin and settle in.
4:00 pm – 8:00 pm
Head into Parry Sound to get dinner (not-included) or even better, bring a picnic dinner to enjoy at the waterfront while the sun sets.
8:00 pm – 9:00 pm
Welcome and Orientation in Dining Hall
9:00 pm – 10:00 pm
Campfire and Meet and Greet!
Saturday
7:00 am – 8:00 am
Before Breakfast Yoga (Rec Hall)
7:45 am – 8:45 am
Breakfast (Dining Hall) Morning Announcements at 8:30 am
9:00 am – 12:00 pm
Morning sessions
12:15-1:15 pm
Lunch (Dining Hall). Announcements at 12:30 pm
1:30 pm – 4:30 pm
Afternoon sessions
5:30 pm – 6:30 pm
Dinner (Dining Hall) Announcements at 5:45 pm
8:00 pm – 11:00 pm
Campfire and Sunset paddling
Sunday
7:00 am – 8:00 am
Before Breakfast Yoga (Rec Hall)
7:00 am – 8:00 am
Sunrise paddle.
7:45 am – 8:45 am
Breakfast (Dining Hall) Morning Announcements at 8:30 am
9:00 am – 12:00 am
Morning classes
12:15 – 1:15 pm
Lunch (Dining Hall). Announcements at 12:30 pm
1:30 pm – 4:30 pm
Afternoon Classes
4:30 pm Head home for another year!