There is no such feeling of freedom like that of a Sea kayak loaded with food and supplies gliding out onto the water to silently explore a coastline for a week or two. Our goal at OSKC is to assist in training paddlers with the skills required to safely explore in a sea kayak and to then take them to some of the world's most stunning wilderness areas to explore and experience the geography and wildlife from the seat of a kayak.
We are happy to present these sea kayaking experiences. All of our trips are safe spaces. We aim to create a safe space for people of all beliefs and persuasions. We believe the wilderness is for all.
Trip Type
Trip Location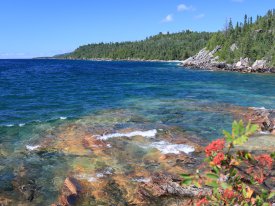 Paddle the shores of Lake Superior Provincial Park with James and Dympna our lead guides and instructors. Just north of Sault Ste Marie, Ontario, this park is home to rich Ojibwa history, rare wildlife, and a rugged wilderness shoreline. Each evening, after we set up our home away from home, we'll enjoy a delicious meal together enjoying a world-class sunset on a wilderness beach.
---
Sea Kayak the wild north shore from Hattie's Cove (just south of Marathon) to Wawa. Along the way you will experience the rugged beauty of Lake Superior in this self-reliant expedition training trip including empty, sandy and cobblestone beaches, rugged Canadian shield, endless Boreal forest, waterfalls and wildlife.
---
We thoroughly enjoyed our Level 1 course. It was incredibly informative and surprisingly challenging. Can't say enough about our instructor