Paddle Canada Level 2 instructor is the last instructor certification you can take in a course format. From here upwards the instructor stream works on a mentorship structure. This is an involved course that should be considered by level 1 instructors will the recommended amount of experience.
During this course, you will review learning styles and practice teaching theory and skills topics. The course is based at OSKC in Parry Sound with accommodation in Glamping wall tents included. Students will be responsible for making their own meals in our covered, outdoor eating area during the OSKC portion of the course.
What You Will Learn
You will spend your time learning teaching/learning styles, practice teaching theory and practical skills in the classroom and on the water.
Your Instructors
Our certified instructors are some of Canada's best!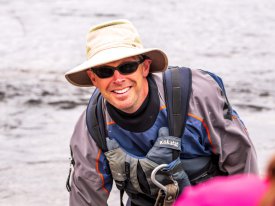 Greg has been paddling and teaching kayaking on Georgian Bay for around 25 yrs… since he was not but a wee grasshopper.
David Johnston has been introducing people to the sport of sea kayaking for the past 20 years. He is a senior instructor trainer with Paddle Canada.
Course Prerequisites
Please contact us with any question related to these trip prerequisites.
At least 18 years of age

Paddle Canada Level 3 skills certificate

Paddle Canada Level 1 Instructor certificate

The candidate will have a significant teaching experience as a Level-1 Instructor in a wide variety of conditions and locations including a minimum of 15 days of logged instruction of Level-1 curriculum (either courses or clinics).

A minimum of two, Level-1 Skills courses within the past three years, being the lead instructor on both courses. These two courses count toward the 15 logged days.

Current certification in wilderness first aid (16 hours) with CPR.

Restricted Operator Certificate (Maritime). Within one year of taking this course.
What's Included
Don't worry, we've got this covered.
Included
Five days of high level instructor training

Accommodation during the course
What's Not Included
Meals and snacks during the course
What You Should Bring
A detailed gear list is sent before the start of the trip but this can get you started.
Know someone who wants to take this course?
Course Location
Ontario Sea Kayak Centre
Parry Sound, Ontario
We will start the course at our base here in Parry Sound.
Driving Directions Address:
Ontario Sea Kayak Centre
6 Harmony Lane
Parry Sound, ON

Ontario Sea Kayak Centre
Parry Sound, Ontario

We will start the course at our base here in Parry Sound.

Get Driving Directions
Your Level one course was amazing. The demonstrations were clear and concise. Your feedback or coaching was very helpful. You both answered my many questions with clarity and patience.
International Visitors
We are more than willing to accommodate you in any way that we can.  Contact us to see how we can help!
We are happy to answer any questions you may have about our Paddle Canada kayak courses. Please email or call us 1-905-399-1216
---
We are happy to answer any questions you may have about this trip or about any of our other trips or courses.