By the time students come back to us for a Paddle Canada Level 3 course they are usually already venturing competently on multi-day trips. Additional coaching in a more dynamic environment takes paddlers to the next level.
Learn advanced rough water paddling skills, leadership, and group-management for multi-day trips in class-3 water. Group members take turns leading and making decisions based upon weather and sea state during a multi-day journey. Participants will work out solutions to multiple scenarios in dynamic conditions.
We are excited to offer this course in Ontario. Our plan is to make the call of where exactly once we see what the weather is doing. The plan is to meet everyone in Parry Sound where we will load into our 12-passenger sprinter with a trailer of kayaks behind us and take off to wherever we have the best chance of conditions. We will have a meeting with the group ahead of time so we all know what the options are. Wilderness Camping will also be an element on this course and we also have access to multiple rivers that will create an environment for current practice.
We teach this level in an ego-free, challenge-by-choice environment and encourage all genders and ages to come and have fun learning and progressing in this sport.
What You Will Learn
Practical application of leadership and group management.
Risk assessment and incident management.
Judgment and decision-making.
General seamanship skills.
Knowledge and experience to take dynamic multi-day kayaking trips on the ocean.
Improved stroke technique and efficiency.
Book Now!
Searching Availability...
Your Instructors
Our certified instructors are some of Canada's best!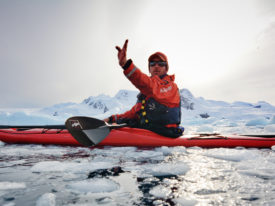 James started kayaking at 18. Since then his paddling career has taken him all over the world as an expedition leader and senior kayak instructor.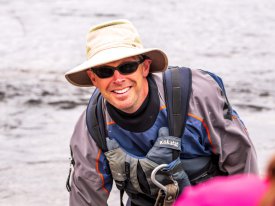 Greg has been paddling and teaching kayaking on Georgian Bay for around 25 yrs… since he was not but a wee grasshopper.
Course Prerequisites
Please contact us with any question related to these trip prerequisites.
Paddle Canada Level 2 skills or equivalent.

Well-developed strokes (efficient forward paddling, bracing, and the ability to flow strokes together).

Confidence in waves and current.

Rolling and towing are necessary at this level. (Contact us for private rolling coaching before the course).
What's Included
Don't worry, we've got this covered.
Included
Paddle Canada certified instructors.

Five days of instruction
What's Not Included
Sea Kayak and paddling equipment ( Rental option available during registration.)

Camping gear and food
Know someone who wants to take this course?
Course Location
Lake Superior Provincial Park
Lake Superior Provincial Park, Ontario
Driving Directions Address:
Trans-Canada Hwy
Agawa Bay
ON P0S 1K0, Canada
Thank you for an amazing weekend of kayaking, great learning sessions, and fantastic instructors.
International Visitors
We are more than willing to accommodate you in any way that we can.  Contact us to see how we can help!
We are happy to answer any questions you may have about our Paddle Canada kayak courses. Please email or call us 1-905-399-1216
---
We are happy to answer any questions you may have about this trip or about any of our other trips or courses.